Customization for world-renowned IP and domestic and international high-end brands
One-stop brand rights protection service
When the consequences of infringement act are severe, sift out target infringer, and wield the weapon of law through standardized litigation for rights protection. When the nature of infringement act is especially bad, launch a criminal lawsuit.
Trademark infringement, copyright infringement, rights protection of well-known enterprises and firms, patent infringement, fake authorization and other special cases can be delivered in a batch.
Our advantages:
①System support for acquisition of clues in batches with high efficiency;
②Case quality control with special operation group for individual case;
③Efficient completion of case filing, case hearing, litigation and mediation in a batch with special attorney;
Unified interface for all cases to reduce repeated communication and improve communication efficiency.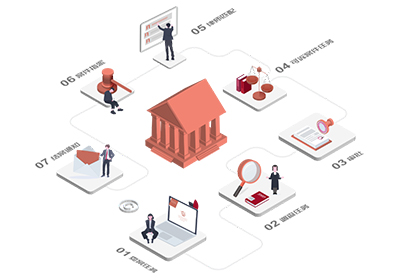 1、Differentiation method
Client provides brand qualification and list of authorized stores.
Client provides identification points to discern between genuine and fake products, e.g. price, key word, and photo.
2、Clue acquisition
Through key word, product price, comment, sales volume, etc.
Crawling data of links suspected of infringement on all online platforms in batches.
3、Data filtering
Client filtering: authorized stores, stores placed on file for investigation and prosecution, and stores turning into criminal case.
Processing of rights protection by type: infringement by counterfeiting, unfair competition, copyright infringement, and special case.
4、Fixation of purchasing evidence
Notarization of online evidence preservation or notarization of online purchasing and receiving;
Client conducts appraisal and issues reports on fake products;
Retrieval of defendant information;
Infringement compliant and link deletion.
5、Civil action
Operate special project (infringement by counterfeiting, unfair competition, copyright infringement, and special case) according to the type of individual case to formulate strategy and draft documents;
Assign special attorney for project operation;
Submit materials for filing lawsuit to client for review and stamping;
Attorney follows up on mediation or verdict.
6、Execution of payment collection
The defendant compensates client according to the mediation proposal.
Enforce court verdict.
Settle contingency fee after collection of payment.
Feedback on case data.
CopyRight © 2019 Shanghai Pinway Intellectual Property Service Co., Ltd. all rights rerserved